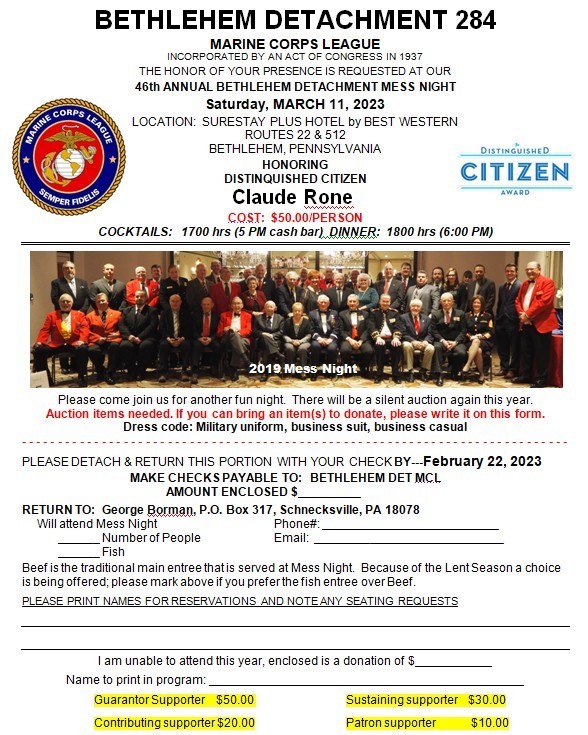 Bethlehem Marine Corps League Mess Night
Ignore the 22 February registration date but get your registration in as soon as possible to George Borman below or you will go hungry.
A military style formal dinner or "dining-in" to honor MCL Detachment 284's 2023 Citizen of the Year, Claude S. Rone.
This event helps us honor the outstanding community service of combat-tested, U. S. Marine Claude Rone (2 Purple Hearts from service during the Vietnam War) and helps the detachment raise money for its continued service to veterans.  It is also an opportunity to foster the camaraderie and build the esprit de corps for which Marines are known.

Claude last year worked hard to help rebuild a home and rehabilitate it for a veteran in Northampton and has been active in many other community projects and services. 
The public is invited to be a part of this tradition and have some fun while raising money for the many events we sponsor that support veterans and their families.  
Any distribution or notice via social media, email list, membership roster, newsletter or traditional news media will be very much appreciated.
Also, any individual or organization that would like to donate services or merchandise for our Silent Auction or to donate money, can contact us. 
Contact the Mess Night coordinator Marine George Borman III at 484-664-886.  See the attached flyer for more information.
Please call or email if you have any questions.
Semper Fidelis,
Douglas Graves, Commandant Bethlehem Detachment 284, Marine Corps League
540-842-3241