It Seems a Thorough Review of the VA's Proposal is not in the Cards?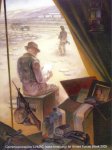 The Department of Veterans Affairs' Asset and Infrastructure Review (AIR) presented in March, in response to a mandate found in the Mission Act of 2018, got the wind knocked out of it around Thursday of this week.  A small but influential, bipartisan group of senators announced they would not support the slate of nominees nominated to serve on the AIR commission to overhaul the Veteran Affairs Department's physical footprint.  Without an impaneled commission to review the VA's recommendations, the process which might close some of the agency's medical facilities and potentially open new ones has been effectively scuttled.
"The commission is not necessary for our continued push to invest in VA health infrastructure, and together we remain dedicated to providing the department with the resources and tools it needs to continue delivering quality care and earned services to veterans in 21st century facilities," the senators said, "now and into the future."
While the intentions of the senators are ostensibly well meant, there is a bit of schizophrenic logic here, for no matter the original impetus for the study, it was the Congress which demanded a review and established the process in the first place.  Who would not want an opportunity to improve the VA's operations for the next twenty-five or so based on strategic rather than reactive thinking alone?  Who would not want a facility lay-down more attuned to the changing needs, demographics and geography of the military veterans community?  Who would not want a plan with the rare feature of also finally raising the issue of proper funding of the VA going forward?  And who would not want to see all of this openly debated as the original process, whatever its flaws, did require.
For more details, try the Government Executive website article.  For a more complete background article, try Leo Shane's Military Times article.
###
RJH
As of 30 June 2022
Updated 2 July 2022 (editing, Military Times article)