Participants at the Greater Lehigh Valley Chamber of Commerce's Real Estate Outlook event on April 14 heard optimism over the continuing dream of a few to make us East Coast Warehouse Central.  They also heard good news on the increased housing development which is needed to attract the younger workers needed for this valley to prosper.  They did not hear about how we might solve the affordability gap for the average citizen, however.   Other official reports from the area have stated or implied that it has becoming mountingly difficult for the average, hardworking citizen to live here, military servicemembers and veterans among them, with or without families, and regardless of age.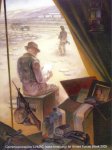 While the influential dawdle towards a solution, maybe it is time for some of our veterans and reservists — those honest ones who have tried every other way and who would never contemplate asking for help under normal circumstances — to look into income boosters/substitutes for the moment to make ends meet.  For instance, put your taxpayer dollars to work.  In that light, where do you begin to look?
One place might be a county's Department of Human Services Information and Referral units (Lehigh, Northampton).  Then, there are (and perhaps more appropos) the state's Department of Human Service's (DHS) County Assistance Offices in the area (Lehigh/Allentown: 1-877-223-5956; Northampton/Easton: 1-800-349-5122).
DHS also has a state-level HELPLINE at 1-800-692-7462.  Use it between 8:30 a.m. and 4:45 p.m., Monday through Friday.  If you are hearing impaired, use TTY/TTD at 1-800-451-5886.
Finally, DHS provides a website of note which might prove helpful in investigating for yourself useful programs on the above topic.  Click on the image below.
We recognize that websites are cold and heartless tools for helping on such a sensitive subject, especially for those without smartphones or computers, severely disabled, or not comfortable with them.  Nothing replaces a competent individual with a kind voice which can be understood, an increasing rarity of late which would help solve a lot of problems, frankly.  But this site might just prove to be a starting place for those who want to investigate on the q.t. for themselves or for a loved one.
And do not forget PA 211 for a broader array of needs.  Just dial 411 or use its website.  It was meant to be an all-point, social services helpline for all.  There is a voice on the other end.
Click on the image to go to the website.
###
RJH
As of 15 April 2022