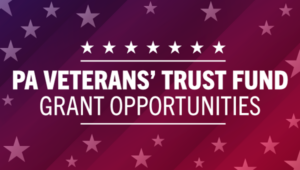 Despite the fact that Pennsylvania's state government is not yet able to provide an "executable" budget appropriation on time, a situation which is hurting many social service agencies and nonprofits — to include veterans organizations which provide benefits services on behalf of the state — the Department of Military and Veterans Affairs is offering grant opportunities which are unaffected by the impasse.
Are you a veteran service organizations or nonprofit organization with a mission of serving Pennsylvania veterans focusing on transportation services, food insecurity, housing insecurity, behavioral or mental health; or legal services? Consider applying now, for the 2023-24 Veterans' Trust Fund grant cycle is open for a short time.   Applications should be submitted via email to RA-MVVetTrustFund@pa.gov and are due by 2 p.m. on November 08, 2023.
A meeting providing an overview of the VTF grant and application process will be offered at 11 a.m. on October 11, 2023.
For more details and how to apply, click here.
Go "fer" it if you really think you can add to or improve the services veterans really need.
###
As of 4 October 2023