LVMAC Tidbit: WWII Veterans Now Get VA Healthcare Free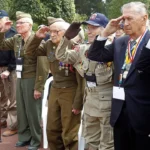 The VA announced on 10 November that all World War II military veterans are now eligible for no-cost VA health care, medical services, and nursing home services regardless of their condition and previous status.  There will be no copays, enrollment fees or monthly premiums. The veteran may also keep their private providers, Medicare, and most other insurance to meet their health care needs.
As to criteria, the individual must have served between 7 December 1941 and 31 December 1946.  However, length of service and current financial status are not factors for consideration.
The VA is contacting those not already enrolled, but we advise that the veteran or his family be proactive. To apply for VA healthcare, visit VA's health care enrollment website, call 1-800-MyVA411 (800-698-2411), or visit your nearest VA medical center or clinic.
This expansion was made possible through the Joseph Maxwell Cleland and Robert Joseph Dole Memorial Veterans Benefits and Health Care Improvement Act of 2022 (Cleland-Dole Act), part of PL 117-3282, an appropriations bill enacted on 29 December 2022.
For the record, Pennsylvania currently has approximately 742,000 veterans, of which about 18,400 (2.5%) are WWII veterans.  The VA anticipates that by 2030, there will be about 480 alive.  More than 1.25 million Pennsylvanians served during that war. No more than 250 of which are still living in U.S. Congressional District 7 (but, probably, half of that).
###
As of 12 November 2023