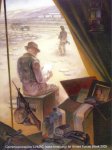 There has been recent confusion in the local veterans community over receiving COVID-19 vaccine booster shots.  Part of it is due to the Wilkes-Barre VA Medical Center's (VAMC) recent cancellation of scheduled appointments for the recommended, regular booster.  That occurred because a new, bivalent versions from Pfizer and Moderna suddenly became available.
The Veterans Health Administration is naturally following Center for Disease Control and Prevention (CDC) guidance, according to the VISN-4 Field Office.  Click here for the latest CDC instructions — these are the true "game rules" without a doubt for the VA.  For the average veteran to get the updated (aka bivalent), Pfizer or Moderna booster (the only one the VA will now use as a booster), a veteran must have received all the primary, monovalent series doses (two for Pfizer and Moderna and one for Johnson and Johnson).  Having received a previous, monovalent booster is not at issue.  Again, the CDC guidance is the final authority.
You should also know, according to Wilkes-Barre's Director, one can schedule both the new COVID-19 booster and the annual flu shot at the same time.  Contact your Patient-Aligned Care Team at their phone number (or through the VAMC's main phone number, Tel: 877-928-2621, pressing 2). If you are not enrolled into VA healthcare yet, click here for further instructions.
###
RJH
As of 22 September 2022