After suffering the effect of two years of the COVID-19 Pandemic, the Lehigh Valley Military Affairs Council (LVMAC) will resume its Bethlehem Memorial Day Parade, as asked by the City of Bethlehem many years ago.  This event results from the combined efforts of the United Veterans of Bethlehem and this council.  The parade starts at 9 a.m. at the Liberty High School parking lot and proceeds up Linden St. to Bethlehem Memorial Park.  Those who wish to be in the parade should register now.  After all, Memorial Day was meant to be more than the unofficial beginning of summer, a day at the beach, or a shopping sales day.
And it is appropriate to have this parade in Bethlehem.  Memorial Day is intended to be the day on which we honor and mourn those who died while serving in the armed forces of the United States Armed Forces and rededicate ourselves to serving our community and nation to ensure their lives were not wasted.  In Bethlehem, that need for remembrance goes back to our Revolutionary War.  About 500 Continental Army soldiers were buried on a hillside, beneath First Avenue, overlooking what is now the City of Bethlehem.  Then, they were forgotten for well over a hundred years.  This uniquely American creation, originally called Decoration Day (for putting flowers of the graves of the fallen), resulting from the tragic experiences of our Civil War eventually revived the notion of remembrance of those who served us in time of war to preserve or extend our liberties  but did not return to us as a consequence — as we good citizens should.  Bethlehem, working with the United Veterans of Bethlehem and LVMAC, now maintains that thought..
More details are provided on the calendar, to include the participant registration form.  Or call the office as below.  Truly consider marching or just standing on the curb or at memorial cemetery at the end of the parade route — remembering what this day is all about.  In the event of rain, the event will be held in the Liberty High School auditorium.
And whether or not you can attend, please note a relatively new tradition: a one minute, national moment in remembrance takes place at 3:00 p.m. local time.  Together with the playing of taps, the parade, and the lowering of the Old Glory to half mast until noon, it should be a fitting Memorial Day in Bethlehem.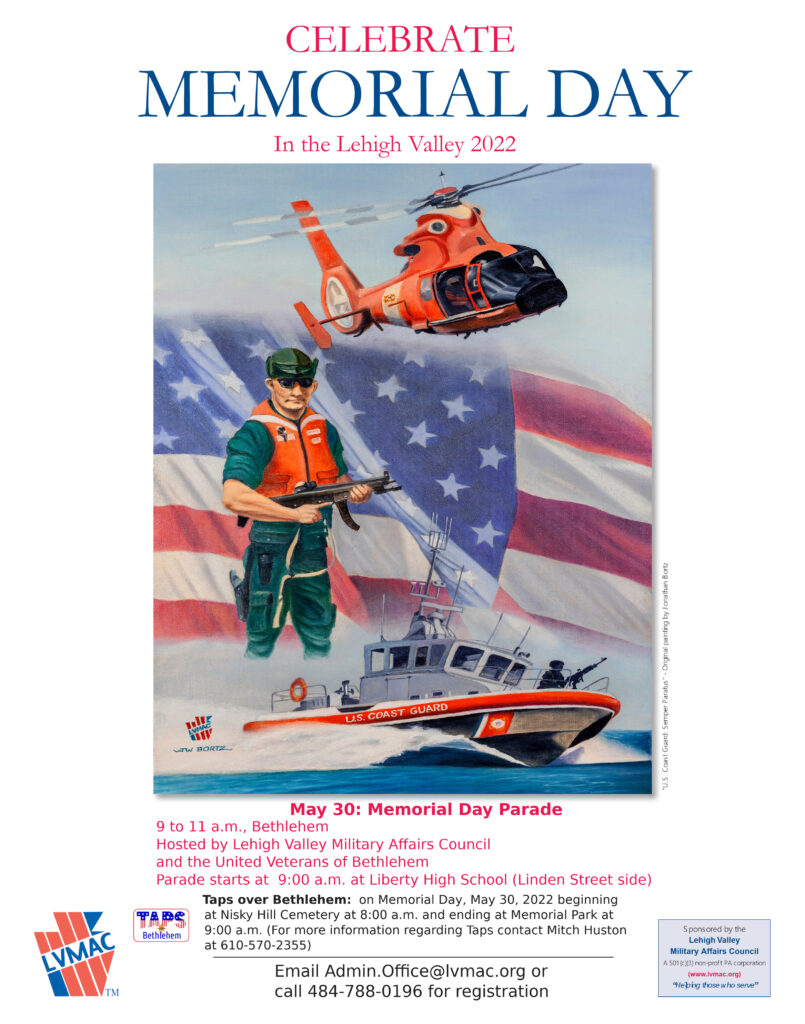 ###
As of 31 March 2022
Updated 1 April 2022