LVMAC Tidbit: VA Health Chat now available in the Lehigh Valley
From a VISN 4 announcement in April:
Do you have a question about a minor health issue but not sure if you need an appointment?  Or do you need a prescription refilled?  You can receive care from VA without stepping foot into a facility using VA Health Chat.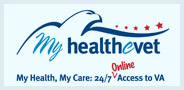 VISN 4 (the VA Health Administration's coordinating field office for Pennsylvania) says you can use VA Health Chat (a chat line) to be connected quickly to a VISN 4 Clinical Contact Center nurse who is ready to give you medical advice when you:
Feel ill and unsure about going to an emergency room or clinic
Have a reaction to a medication
Have questions about your prescriptions or need a refill
Need medical advice for a minor injury or illness
These nurses (stationed at multiple VISN-4 locations) are available to chat from 7:30 a.m. to 4 p.m., Monday through Friday, except federal holidays.
The option to speak on a phone remains, but this initiative is introducing a phone app and desktop browser option.
Visit https://mobile.va.gov/app/va-health-chat to launch from your browser or to download the app.  It will require you to sing in like MyHealtheVet does.
###
As of 13 April 2022